Gone are the days of manual skimming and scrubbing. Pool robots have emerged as game-changers in the world of pool maintenance. These smart devices utilise advanced technology to clean your pool, giving you more time to relax and enjoy the summer.
The pool cleaner robot operates autonomously, precisely navigating the pool's surface and walls. Equipped with sensors and sophisticated algorithms, they map the pool's structure to ensure comprehensive coverage. This cleaning removes debris, leaves, and even fine particles, leaving your pool water crystal clear.
One of the most impressive features of these robots is their versatility. Whether you own an in-ground or above-ground pool, independently from its structure, such as vinyl, tile or concrete, a pool robot can perfectly suit your requirements. They are adept at handling tight corners, stairs, and other challenging areas that often escape manual cleaning.
Furthermore, a pool cleaner robot saves time and effort and helps with cost efficiency. They promote balanced chemical levels and better water circulation by reducing the need for chemical treatments and excessive water circulation. Ultimately leading to reduced maintenance expenses, and their energy-efficient design ensures minimal power consumption.
Our Stock
Finally, we have a final-season offer on the last few of our pool cleaner robots. For example, this is the Wolly, a pool cleaner robot from Maytronics. The market generally recognizes it as the top pool cleaner robot available.

DOLPHIN WOLLY DESCRIPTION.
WOLLY is the automatic pool cleaner robot that everyone can use thanks to its lightweight and rapid water release. Effectively cleans the bottom, the walls and the water line with excellent results thanks to the multi-directional Power-Stream movement system through lateral jets. Wolly has a top opening to facilitate access to the filter and simplify cleaning; it is light and easy to transport thanks to the rapid release of water without losing debris. Multi-level filtration facilitates the capture of fine and ultrafine dirt, and active brush action allows to remove algae and bacteria. Reliability is guaranteed with Maytronics (leader in the pool robot sector). Cycle duration: 2 hours Cleaning: bottom, walls and waterline Cable length: 18 m. The maximum length of the pool: 12 m. Brushes: PVC Filtration: 2 fine and coarse levels Without cart. Guarantee: 2 years
List price €1535 ex IVA. End-of-season price €950 ex IVA on three units only. Collection only.
In conclusion, If you need more information about a pool cleaner robot, do not hesitate to contact us; you can also find us on Instagram and Facebook if you want to have a look at some of our work.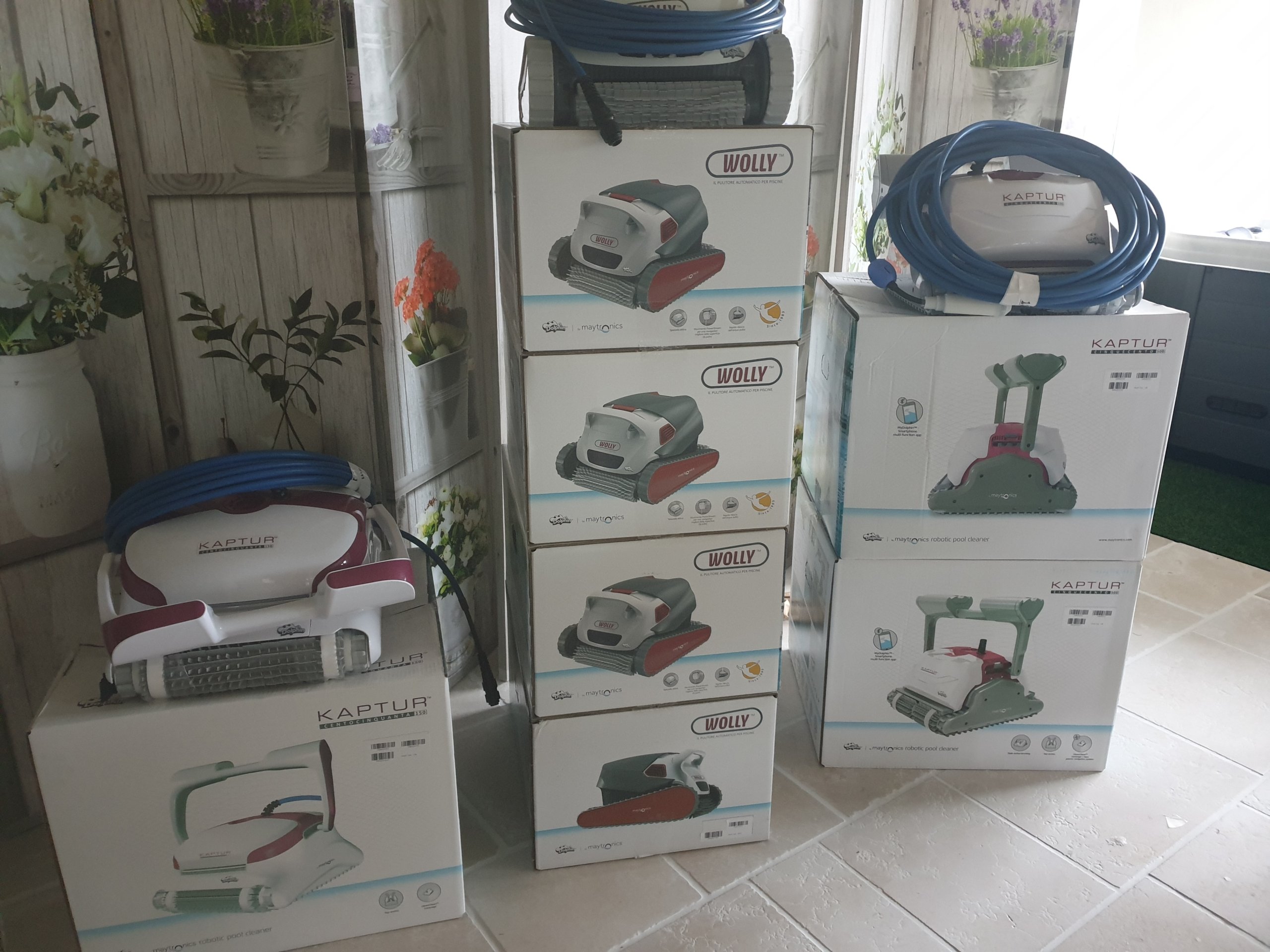 0
0
Edoardo Moro
https://pugliapools.com/wp-content/uploads/2021/09/puglia-pools-logo.png
Edoardo Moro
2023-08-08 16:42:51
2023-08-08 17:23:09
Pool cleaner robot